Top 10 Best Wet Grinders in India for Idly, Vada, and Dosa Enthusiasts! Discover the ultimate selection of wet grinders that guarantee perfect idlies, crispy vadas, and delectable dosas! Our expert reviews showcase the top 10 best wet grinders in India, including efficient tabletop and convenient tilting models.
The Elgi Ultra Perfect 2-litre wet grinder is a powerful and efficient wet grinder that is perfect for grinding grains, spices, and chutneys. It is a great choice for anyone who wants a reliable and durable wet grinder.
Elgi Ultra Perfect+ Wet Grinder Demo & Review Video
Last update was on: September 29, 2023 12:12 am
The Premier Wet Grinder Lifestyle PG 502 is a 2-litre wet grinder with a powerful 200-watt motor. It has cylindrical stones that crush, mix, and grind all the ingredients and a food-grade stainless steel drum that is rust-resistant.
The Butterfly Smart Wet Grinder is a 2-litre wet grinder with a powerful 150-watt motor. It has cylindrical stones that crush, mix, and grind all the ingredients evenly. It also comes with a coconut scraper attachment.
Hi Friends Do you want to make Fluffy Idly, Vada, and Dosa like South Indian Style by simply sitting at your home? Do you want to know Which is the Best Wet Grinder in India with powerful features, yet within the budget price range? You found the perfect article and came to the right place.
Check these Top 3 Extremely Popular Best Wet Grinders in various categories like Highest Quality, Bestselling Grinder, Best Budget Grinder, and Tilting Wet Grinder.
Top Picks for Best Wet Grinder In India
SmartFingers Comfort Plus Table Top Magic Wet Grinder Demo
Important Features to Lookout for in Wet Grinders
Tabletop wet grinders are of two types, One is a Normal Table Top and the other one is a Tilting Tabletop grinder.
The stones used in these machines are exclusively manufactured in Coimbatore in Tamil Nadu. So, the name comes Coimbatore Wet Grinder
Popular brands' products have somewhat similar features like cylindrical grinding stones, steel drums, transparent lids, 2 Lt drum Capacity, 150 watt motor, etc.
However, we will review in detail how the premium features like Auto Cut OFF Timer, Stone Batter Cleaner, and 10 Years Warranty on some of the Brand's products can change your buying decision.
---
Top 10 Popular Wet Grinders in India
---
Choosing a best wet grinder is not so easy. So, all the important issues were taken into consideration, like warranty, after-sales service, spare parts availability, and durability.2 Years. Choosing a wet grinder is not so easy. So, all the important issues were taken into consideration, like warranty, after-sales service, spare parts availability, and durability.
Explore each and every small feature of grinders that can change your buying decision. Highest rated, reviewed, products with awesome 10 Years Warranties, the Top 10 Grinders are han2 Yearsdpicked and reviewed in detail for you.
Various features, like the type of stones, the capacity, and the continuous running time of the motor are deliberated upon in detail.
---
---
1. Ultra Perfect + 2 Liter Wet Grinder Review
To Begin with, Ultra Perfect + Model is the Ultimate winner. No other Brand dares to Offer 10 Years Warranty.
It comes and tons of amazing qualities, and features and is made with the highest quality ABS Body and rust-resistant Stainless Steel Materials.
Rust Resistant 2 Lt Capacity Stainless Steel Drum:-
Patented Conical Stones
This machine has a 150 Watts powerful copper winding motor for longer usage and better durability. It has a more than 30 Minutes continuous run rating.
Digital Timer and Auto Power Cut-OFF Function
Another amazing feature that is very much required by everyone is Digital Timer and Auto Power Cut OFF Function.
You can set the digital timer for the required time of grinding. After the set time is nearing completion (within one minute of completion), it gives a beep sound as an alert that the grinding is about to be complete. Press the Up/ Down Buttons to adjust the timing.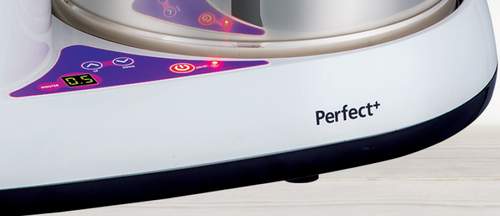 After the set time is elapsed, the Auto Power Cut OFF function comes into action and cuts the power supply without your intervention. This feature is very important, as you can set a timer for say 30 minutes and go start watching your favorite TV Serials. It stops automatically.
It comes with a Batter remover, which is another important but simple attachment. Remove batter from the conical stones using this batter remover and store the same drum in the fridge or change batter to another smaller vessel as per your convenience.
Optional Coconut Scrapper and Atta Kneader
Additionally, it also has two optional attachments for Coconut Scrapper and Atta Kneader
Optional Attachments
However, these attachments are optional and not supplied with the Ultra Product itself. Attachments should be purchased separately as per your requirement.
Together, the bigger Atta Kneader attachment along with a 2 Lt steel drum can make Atta dough easily for the whole family consisting of more than 5 members.
If you like coconut scrapping like the old style, not just making small pieces and grinding in a normal mixie, this amazing attachment can scrap coconut as old style and the chutney will be tastier than ever.
Elgi Ultra Perfect + Wet Grinder Unboxing Demo & Review
---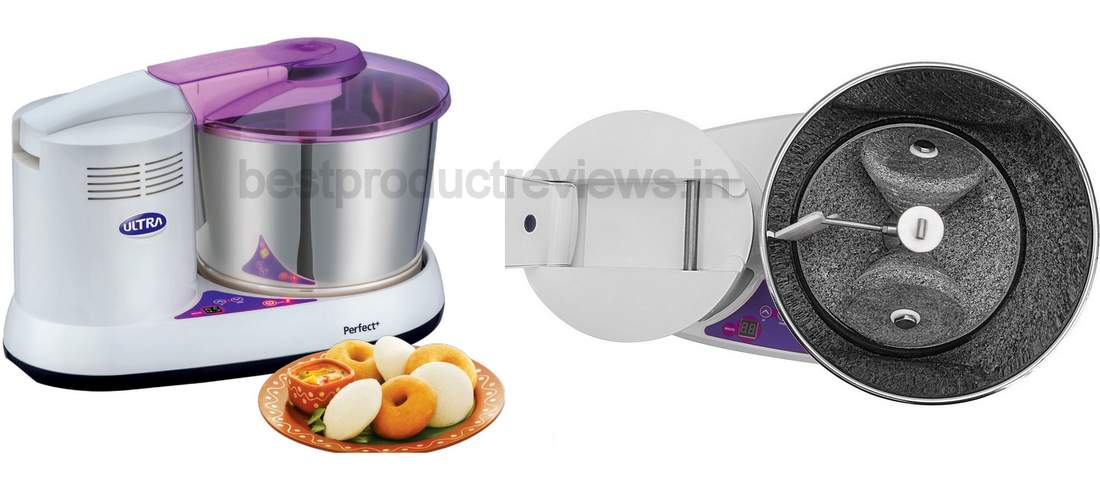 ---
---
How to Prepare Smooth Idli Batter in Ultra Wet Grinder
To begin with, preparing the smooth batter and Fluffy Idli, Dosa and vada is an art. However, you can also do this very easily with Ultra Grinder.
Ultra Company itself has given some tips on making batter smooth. Most Importantly, you must soak rice and Dhal for some time before grinding them.
Check the Following table for General instructions on the ingredients and their grinding time etc.
This table was prepared by Ultra Brand in their Instruction Manual. However, the same quantities can be used with all wet grinders.
---
Ultra Wet Grinder Models Review & Features Comparison
---
Ultra Brand Manufactures quality products in different capacities and sizes. Moreover, they come in sizes like 1.25 Lt, 1.75 Lt, 2 Lt, and 2.5 Liter Capacity.
Most Of the features remain the same. However, there are some differences between these products. So, select a product that suits your wet grinding requirements and depends on the size of the family.
Check the following table for Ultra Grinder Types, Sizes, and Price & Feature Comparison. The Ultra Perfect + model is the overall best.
---
2. Panasonic SW200 Super Wet Grinder Review
To begin with, Panasonic MK-SW200 Ultimate Model comes in two beautiful colors grey and white. It is made with all the required features and the highest quality workmanship.
It also has a never seen unique feature Namely, 3D Alpha Flow technology that gives 15% more efficient grinding and fluffy batter.
By the way, It also comes with a powerful 240 Watts motor and a stainless steel food-grade drum for batter grinding. Additionally, it is light in weight and its compact design takes up very less space in your kitchen.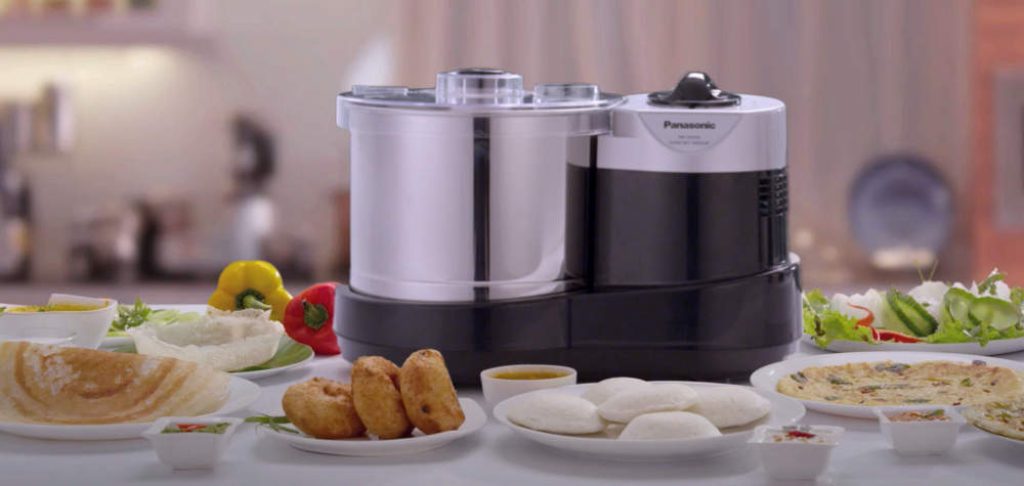 Besides, its Auto Shut OFF switch works perfectly and easy switches OFF the machine onset timing. Set the timer as per your required grinding time and relax by watching TV Serials. It Stops automatically after the time completes.
---
A circuit Breaker which is also called an overload protector cuts the power supply and stops the motor in the event of motor overloading.
Remove excess content from the drum close the lid and then press the protector switch. Now you can run the machine as usual.
It also comes most required feature warranty for 5 years and trouble-free service and rectification.
Panasonic Table Top Wet Grinder Demo Review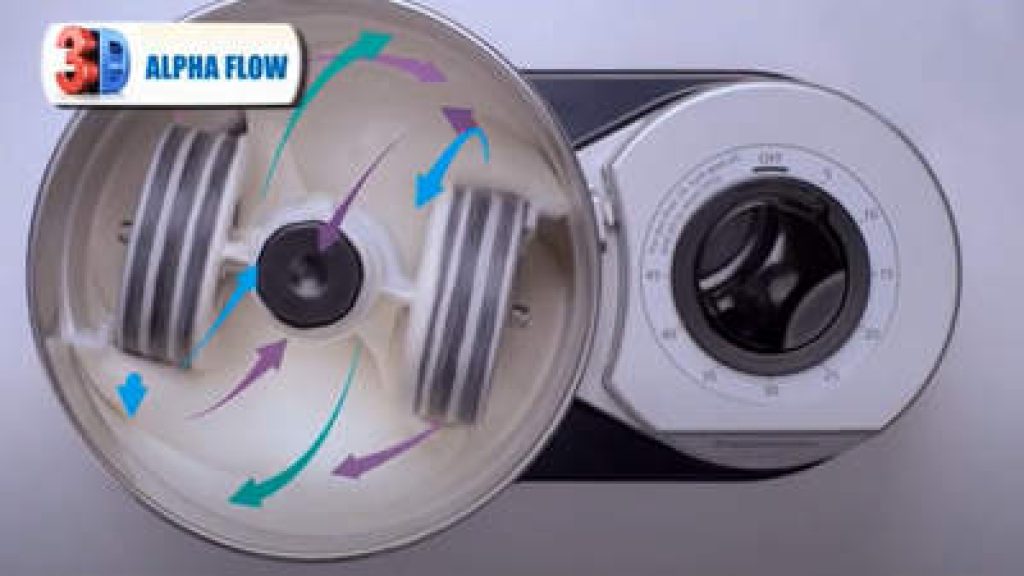 ---
Panasonic Wet Grinder Models & Features Comparison
---
The Panasonic Brand brings its range of grinders in different modes and features.

Most of the features of Panasonic wet grinders remain the same. However, some differences like with or without atta kneader, coconut scraper, and Auto Timer. But, Panasonic does not provide Atta Kneader or Coconut scrapper.

Panasonic Brings three varieties of Grinder Models. There is a difference of around Rs 2000 between these SW and GW grinder models.

Back To Top 10 Table]
---
3. Best Butterfly Table Top Wet Grinder Models Review Price Comparison
Check the following Best Butterfly Wet Grinders. Butterfly brand is the most popular and all the grinders of this brand are bestselling online. Moreover, all the Butterfly Grinders come in a very customer-friendly budget price range.
Generally, Butterfly also offers Atta Kneader and Coconut scrapper with some butterfly models. The Cost of these products is very less compared to the premium brand Ultra.
Its Stainless steel Drum of 2 Liter capacity and 150 Watts Powerful Motor is sufficient for home grinding needs. The grinding drum has a polycarbonate transparent Lid for closing the drum while grinding. Moreover, you can always look inside the drum while the grinding is in progress.
Similarly, Butterfly Matchless Pro 2 Lt grinders and Butterfly Matchless Plus 2 Lt grinders have a locking arm mechanism to lock the stainless steel grinding drum and the motor unit. All other models have no arm for locking.
As far as the warranty is concerned, all the butterfly grinders offer only 2 years of warranty on the motor and 2 years warranty on the whole product.
Likewise, Butterfly Matchless Pro 2 Lt grinder and Butterfly Matchless Plus 2 Lt grinders come with a shockproof ABS body and detachable stainless steel grinding drum for storing after use.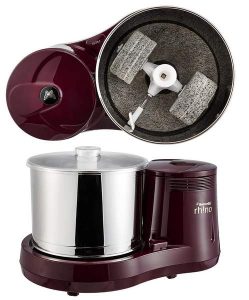 ---
---
---
Butterfly Wet Grinder Models & Features Comparison
---
Butterfly Brand brings amazing quality wet grinders in different models with different types of stones. All butterfly grinders come in 2 Lt capacity, 150 Watts motor, and 2 Years warranty.

[wpsm_comparison_table id="23″ class="center-table-align"]

Most of the features of all butterfly products remain the same. However, some differences like come with or without an atta kneader and coconut scraper some grinders use 2 cylindrical stones, while others use 3 conical-shaped stones for better and faster grinding.

So, choose your Grinder from these models within the Budget based on your grinding needs, family size, and frequency of making idly and dosa.

Explore this amazing table for Best Butterfly Grinder Models, Types, and Price Comparisons. Butterfly Rhino Grinder Model is the Budget Wet Grinder.

[Back To Top 10 Table]
---
Best Tilting Tabletop Wet Grinder in India Reviews
---
As you know that wet grinders are 2 Types Normal tabletop and Tilting tabletop. Ultra Wet Grinder and Butterfly grinders are normal tabletop grinders. However, SS Premier Brand and some other brands make Tilting Wet Grinders.
In Normal grinders, the motor unit and the grinding drum are connected by a belt and both are placed side by side. However, in the Tilting grinder, both the motor unit and grinding drum are connected directly.
However, due to the tilting mechanism, the grinder can not be sturdy during operation as compared to normal grinders. Moreover, the nuts and screws of the tilting mechanism may get damaged.
---
4. Premier Lifestyle Tilting Wet Grinder
Premier wonder tilting wet grinder specializes in tilting grinders. This product can be tilted in around 60 degrees downwards to easily remove batter from the drum.
With amazing 2 cylindrical stones, 150 Watts motor, and 2 Lts capacity this premier wet grinder is an amazing and stunning tilting type grinder.
Shock-proof ABS body and rustproof stainless-steel drum can make your buying decision correctly.
The motor and the drum are coupled directly to each other, so no power loss at the driving belt. Moreover, it consumes less power as compared to belt-driven grinders.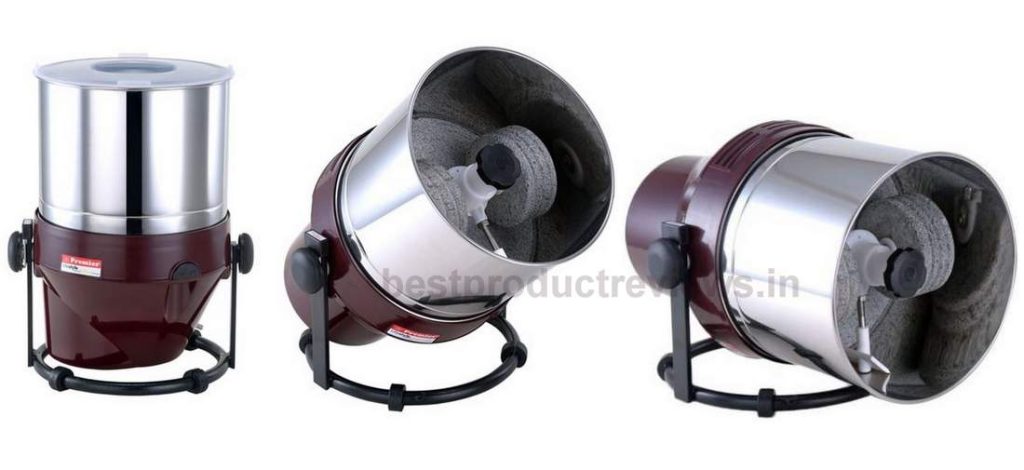 Back To Top 10 Table]
---
5. Prestige 200 Watts Wet Grinder
Prestige PW200 is another Best Tilting Wet Grinder from a popular prestige Brand. Its 200 Watts motor and 2 Liter capacity of the grinding drum are sufficient for family needs and make it an amazing pick-in tilting type grinder.
This grinder has the HIghest quality 2 cylindrical stones with extra thickness for better and faster grinding. Moreover, its operating noise levels are very low in the range of 50-60 dB.
It saves so much of your kitchen due to its unique standing design and can be easily stored in kitchen racks. Additionally, it also comes with a Coconut scraper and Atta kneader attachment.
Prestige gives Only 1 Years warranty on the complete wet grinder and amazingly 5 years warranty on the motor.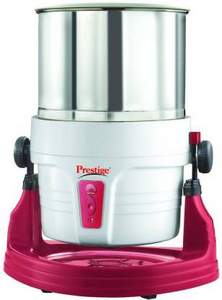 Back To Top 10 Table]
---
6. Premier Wonder Table Top Wet Grinder
Premier Wonder Table top wet grinder has a unique standing design in which the grinding drum is coupled with the motor directly above. However, it's not a tilting type.
Its power capacity is 95 watts and the grinding drum capacity is 1.5 Liters so, a perfect fit for a small family consisting of 3 to 4 members. This wet grinder consumes very less power due to its 95 Watts capacity motor.
As far as warranty is concerned, premier offers only a 1-year warranty, while other brands offer at least 2 years of warranty.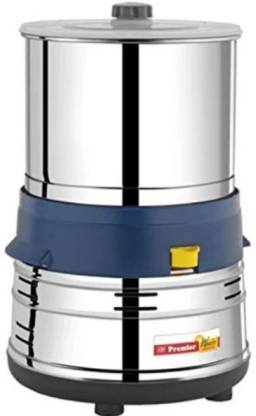 Back To Top 10 Table]
---
7. Pigeon by Stovekraft Platino 2-Litre Wet Grinder Review
Pigeon Platino Wet grinder is an amazing pick with beautiful aesthetics and color combination. Moreover, Pigeon gives an amazing 5 Years warranty.
Its stunning ABS body is shockproof and very easy to clean and maintain. Moreover, its grinding stones are non-absorbing and free from contamination.
Also, comes with an extremely powerful motor of 150 Watts capacity and double ball bearings for smooth operation and longer life. Moreover, its unbreakable see-through transparent lid id made of Polycarbonate material.
The highest quality food-grade stainless steel drum of 2 Liter capacity is very healthy and safe. Moreover, the grinding drum is easily detachable for cleaning or storing the batter.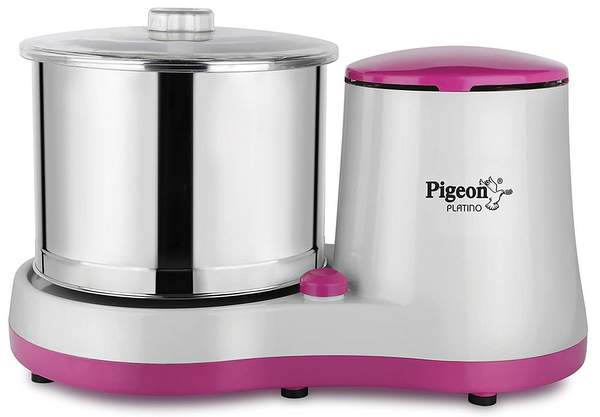 Back To Top 10 Table]
---
8. Bajaj WX 3 150-Watt Wet Grinder
Bajaj WX 3 wet grinder comes with full power from its stunning High Torque Induction Motor of 150 Watts. Its high-quality roller stone assembly grinds the batter very smoothly.
The stainless steel drum capacity of 2 Liters is more than enough for a family of 4-5 members. It's also Lighter in weight and compact design. It fits in a smaller kitchen easily in a corner.
Its glassy super fine finish comes from an ABS body which is too easy to clean and maintain. The spatula is always provided with every grinder. Moreover, its 5 Years warranty on the motor and 2 Years warranty on the grinder makes your after-sales period trouble-free.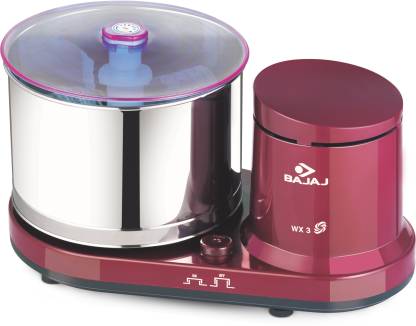 Back To Top 10 Table]
---
9. Prestige Wet Grinder PWG 08
To begin with, its designer body with a beautiful color combination makes your kitchen look amazing. Not only looks its powerful motor grinds consistently for faster and tastier batter than any machine.
The safest stainless steel drum makes a nice and smooth batter which is also very safe and healthy. Do you have a small kitchen? No worries, this small and compact model perfectly fits in smaller kitchens also.
With a capacity of 2 liters, you can make Idly, dosa batter for entire family members for 3 days' breakfast. Even you can store batter in the drum in the refrigerator after grinding.
Prestige 1-year warranty on the product and 5 years warranty on the motor makes you tension free about motor problems and issues in future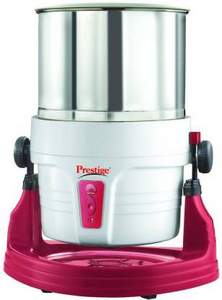 Back To Top 10 Table]
---
10. Ponmani Pearl Plus 1.25 liters Table Top Tilting Wet Grinder
Ponmani Brand is also a popular brand that manufactures these products since 1985. This brand is so popular in Tamil Nadu.
Astonishingly Ponmani makes around 11 different models. Ponmani Pearl Plus 1.25 liters Table Top Wet Grinder is a popular pick and the same model is also available in 3 Liter Capacity for a bigger family.
While other brands supply Atta Kneader and Coconut scrapper with only some models or these attachments are optional. But, If you buy any Ponmani item, you will get these attachments free.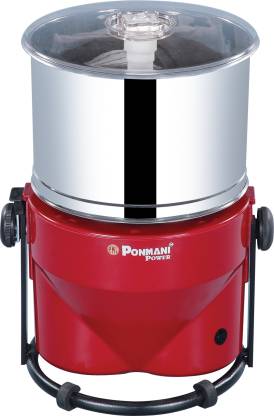 Back To Top 10 Table]
---
Wet Grinder Buying Guide | 18 Buying Tips
---
This is the ultimate wet grinder buying guide available on the internet. Each and every feature of the wet grinder, safety tips, maintenance guidelines, warranty, safety, etc.
1. What are the Types Of Wet Grinders available?
Wet grinders are commonly used for making Urad Dal/ Rice Batter used for most popular south Indian dishes like Idli, Vada Dosa, etc. Broadly, there are four types of wet grinders available.
Traditional Stone Wet Grinders are used in the early days, even now they are being used in villages and small towns.
Table Top Wet Grinders also same stones inside the stainless steel drum and serves the same purpose. However, These are smaller, easy to use, and powered by an electrical motor. Moreover, the Tabletop Wet grinder is fit for home use.
Tilting Wet Grinders also uses the same stones used for making the batter. However, in tilting a wet grinder, the Batter grinding drum can be tilted for removing batter very easily.
Heavy Commercial Wet Grinders are used for commercial purposes and in hotels, restaurants, etc.
---
2. General Features of Wet Grinders
Here we are discussing only Table Top wet grinders and Tilting Table Top Wet Grinders. All types of wet grinders available in the market today have similar and identical features.
The most important features of wet grinders are the size and capacity of the wet grinder is, how many ingredients you can grind without spilling out of the drum. The grinders are available in 1.25 Lt, 1.75 Lts, and 2 Lt capacity.
The wet grinder must have a copper wound motor and overload protection to save the motor from overload current and ensures long life.
Some brands make special attachments like Coconut scrapper and Atta Kneader, which can be bought separately.
---
3. Which is the Best Wet Grinder Brand in India?
There are so many popular ISI mark Brands that are manufacturing modern, durable wet grinders with amazing features and accessories. However, the following brands are the most popular.
So among the brands mentioned above, Elgi Ultra, Butterfly, Premier, and Prestige are popular Brands and makes various types and sizes.
Ultra is part of Elgi Ultra Ltd. Ultra manufactures various high-quality mixer grinders and other kitchen appliances. All Ultra products are made with extreme care and the highest quality materials for healthy and better cooking.
Ultra is the Only Brand that Offers 10 Years Warranty and Digital Timer Auto Cut OFF Function on their flagship product Ultra Perfect + Wet Grinder. No Other Brand dares to Offer 10 Years warranty.
Butterfly Brand is a popular kitchen appliance. This is the first brand to acquire the ISO 9002 certification. All the popular kitchen appliances bear amazing quality, yet are within the reach of every customer.
Butterfly brand is becoming popular with their kitchen appliances like Mixer Grinder, grinders, Gas Stove and cookware, etc.
How to Choose a Wet Grinder? Brand Comparison
Most popular brands are compared here based on the Quality and type of materials used in manufacturing, warranty, special features, attachments, etc.
---
4. How many capacities Of the Wet Grinder is Best for the Home?
The capacity of a wet grinder is a very important aspect to look out for. Wet Grinders are available in various capacities for different sized families.
Wet grinders are available in 1.25 Lt, 1.75 Liters, 2 Liters, and 2.5 Liters also. However for a small family of 3 to 4 people and the occasional making of idly and dosa, then 1.25 Liters wet grinder is sufficient.
---
5. What is Continuous Run Rating?
The time a motor runs for some time period continuously without getting overloaded or tripping OFF is Continuous Run Time Rating. More the running time then more durable and safe for longer usage.
---
6. Type/Number and Shape Of Wet Grinder Stones
There are different types of stones are fitted in wet grinders. Generally, most machines are using 2 Cylindrical stones.
However, some popular Brands like Elgi Ultra are using Patented conical stones for better contact and easy grinding. Some Other Brands like Bajaj make unique 3 Conical stones.
---
7. Type Of Motor and Overload Protection
The motor should be of copper winding and powerful and should take the continuous load of the wet grinding very easily. However, at times when the machine gets overloaded, there should be some protection.
---
8. Speed Settings and Auto Cut OFF Timer
There are no seed settings, they normally operate at low speed but operate continuously for 30 or more minutes. So, there is no need for speed settings.
Auto Cut OFF Timer is a device fitted, only you need to Set timings of operation, then Auto Cut OFF timer stops automatically at the end of the time period.
---
9. Optional Wet Grinder Attachments
Some of the grinders generally manufacture optional attachments like Coconut scrapers and Atta Kneaders.
These amazing attachments can make your wet grinder an Atta Kneading machine and even you can scrap coconut for making tasty chutney.
Above two attachments are used with Ultra Grinders as Atta Kneader and Coconut Scrappers.
---
10. Running Speed and Noise Levels
Its Running Speed is very less as compared to Normal Mixer Grinders. The operating Speed of the Mixer grinder is around 20000 rpm, However running speed of grinders is in the range of 1400 Rpm without any load.
In brief, the speed of grinders under full load conditions is 135 to 140 Rpm only. Because grinders need to run for more time grinding at slower speeds, while Mixer Grinders run at high speeds for faster grinding of ingredients.
---
---
11. Overall Cost & Budget of Wet Grinder
Grinders are available at various prices ranging from Rs 3000 to Rs 9000. Based on various features, brands' price keeps on changing. Butterfly grinders are the cheapest and bestselling with all the required features.
---
12. Warranty and Its Terms & Conditions
Warranty is the most important aspect to look into. After analyzing various brands and their warranty features, I came to a conclusion about warranty features and terms and conditions.
All other brands like Butterfly, Bajaj, Panasonic, Premier, etc generally give 5 years warranty.
---
13. Wet Grinder Cleaning & Maintenance Tips
Cleaning and maintenance are so important to make your machine last longer. Read and check the following tips for keeping it neat and clean.
Moreover, it also helps in trouble free-running without any need for servicing or rectification.
You can keep the Grinding Drum with batter inside the refrigerator for future use, However, I strongly suggest removing the batter to another vessel. Wash the drum, make it dry and store it in a safe place.
Clean and remove any ingredients stuck below the drum or between any moving parts. So that machine runs smoothly. Do not add big pieces of coconut, always add scrapped coconut for grinding.
---
14. Do's, Don't, and Safety Precautions
If you want to use your wet grinder for a longer time, you must follow important do's and dont's while using the grinder.
All brands provide an operating manual and instruction booklet. Please follow the rules and regulations provided in that manual.
However, I have taken out some common and useful Do's and Dont's while using Grinder in your home.
---
15. Troubleshooting Minor Issues
While using the grinder you should always follow all types of safety precautions and other Do's and Dont's recommended by Brand in the Operating Manual book.
However, I have taken out some important problems faced and the possible solutions during usage of the grinder at home. Always contact the authorized service center for any rectification work on the grinder. Do not do it yourself.
---
---
---
16. Spare Parts & After Sales Service Contact Information
After using the grinder for some time, there may be a requirement for some small spare parts/ items that may be accidentally damaged while using or handling.
All brands manufacture and sell spare parts at their service centers. Check out the following information on various brands' spare parts availability and service contact information.
You can easily get spare parts from Authorized Service Centers near me located all over India.
---
17. Wet Grinder Brand Service Centers Information
Ultra wet grinders are the most popular and highly rated. You can easily know the Ultra Service Center near you. Additionally, you can contact them at ultracare@elgiultra.com.
Ultra Brand service Working Hours 9 am to 7 pm (Closed on Saturday & Sunday). After buying your product you can register for a product warranty.
Also, you can easily make an Online Complaint about maintenance or service and get repaired very easily without any hassle. You can contact Ultra Grinder Ultra Care at their toll-free number 1800 102 2040.
Butterfly grinder is within everyone's budget grinder online. For butterfly grinder spare parts, you get Butterfly service centers from this official website link.
Also, check for Butterfly Brand Customer care contact details. you can contact me for any issue regarding rectification or maintenance.
Premier grinder is amazing and popular and Best Tilting Table Top Grinder. Genuine Spare Parts can be bought from this Official website Link [/su_note]
Also, a Service Request can be placed online by filling a Service Request Form for faster service and maintenance by authorized personnel. Additionally, easily Contact Premier Brand for any issue you are facing.
---
18. Conclusion: Which is the Best Wet Grinder In India?
After going through 18 Amazing Buying Tips, and analyzing features that can affect the buying decision, I have made some conclusions on which is the most popular Grinder in India?
Choosing a Grinder is not an easy task. It depends on different factors. Factors like Capacity, Size of the machine, do you need Tilting or Normal, and your budget price.
If you need a Most Powerful Grinder with Extreme Grinding Capabilities, you can't compromise on Quality over Price, then Blindly Go For Ultra Perfect + 2 Liter, Grinder. Moreover, other than all basic features, it comes with an amazing 10 Years Warranty and Auto Cuy OFF Timer. Also, optional attachments like Atta Kneader and coconut scrapper are available for purchase.
Some people with small family needs small or lesser capacity. If you want an amazing quality Mixer Grinder like the Ultra Perfect + Grinder, but your cooking needs are less and have a small family. Moreover, If you occasionally make idly dosa like once a week, then simply go for Ultra Dura + 1.25 Liter.
Best Picks
If you want to Buy a We Grinder of perfect 2 Liter Size and for medium size of family-like 4-5 members and you need in within budget price range of Rs 3000, then simply Buy Butterfly Rhino 2 Liter, Grinder.
Some people like this Tilting Grinder Function. So, if you want a Tilting Grinder, go for Premier Wonder 2 Liter, Tilting Grinder. It comes with all required features like 150 Watts motor, 2 Liter capacity, Steel drum, Overload protector, etc.
If you still want to see Other Grinder you can buy it, check My Top 4 Picks and Top 10 Grinders. Also, See Top 5 Best Butterfly Grinders in Budget Price
---
---
---
Frequently Asked Questions
---